On a 12,500 m2 industrial site, our team of professionals proposes collection solutions for the recycling of all waste: composters, bins, above ground containers, semi in-ground containers, in-ground containers, etc.
Alongside its product ranges, QUADRIA also provides services such as surveys, distribution, management and maintenance of container assets, and even composting training.
Concerned about the environment, the QUADRIA teams are engaged in permanent innovation, from product design to manufacture, to be able to meet future environmental policies.
Our Story
Founded in 1997 by Thierry Coupé, from the start, QUADRIA pursued its growth on the waste collection and recycling equipment market.
The QUADRIA team began its activity as a distributor and, as it wanted to permanently innovate for its customers, it began manufacturing its own products in 2010.
Today the company has over 20 years of experience as a local authority and private business partner.
Over 20 years of experience
1997
Creation of the company by Thierry COUPE
2010
Launch of the Smily range
2012
Acquisition of ECD and launch of the Compostys® range
2013
Reinforcement of the Picumnus range®
2014
Launch of the Lineance range®
2015
Launch of the Cuba range
2016
Reinforcement of the Compostys® range and launch of the range of buried containers
2017
Reinforcement of the Linéance® range
2018
Launch of the Lolly® and Compostys® wood ranges
2019
Reinforcement of the Compostys® range
2020
Opening of a QUADRIA depot in Nantes
Our Commitment
At QUADRIA, waste recycling is part of a circular economy approach: it makes it possible for waste to be processed into raw material to give it a second life. This reduces natural resource consumption by saving the energy and water needed for extraction.
This first sorting step is essential to be able to recycle, and without waste collection containers, recycling would not be possible. This is why QUADRIA has been offering local authorities and businesses waste pre-collection solutions for over 20 years, with a complete range for all flows:
– Household waste
– Glass
– Paper
– Cardboard
– Packaging
– Green waste
Committed to respecting the environment, QUADRIA is developing a sustainable and socially responsible approach for the future.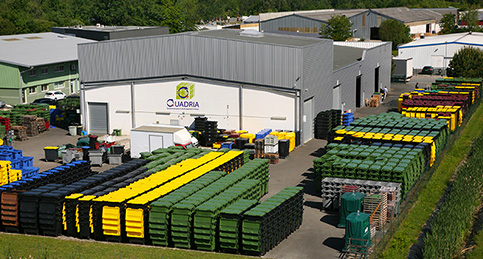 "Recycling 1 tonne of aluminium saves 2 tonnes of bauxite. Recycling 1 tonne of paper saves 17 trees. Recycling 1 tonne of PET plastic saves 800 kg of crude oil."