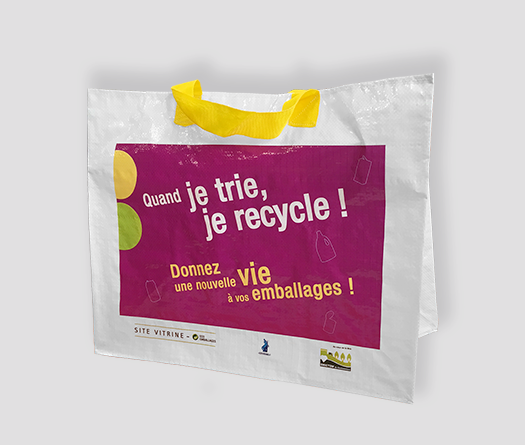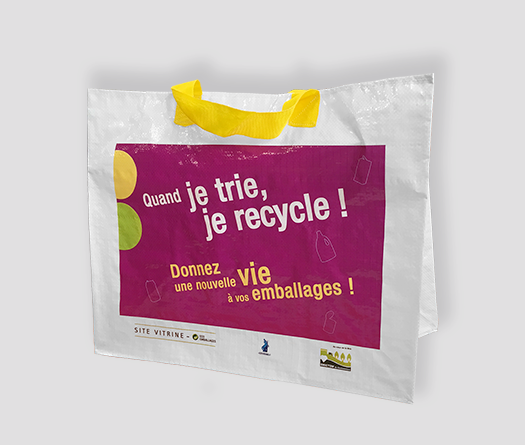 Our other products
Pre-collection bags
The pre-collection bags facilitate and encourage waste sorting and drop-off at the appropriate collection points. They also prove to be good communication tools for the distributor organisation.
Assets
Strong
Ecological
Customisable
Functional
Waste taken in charge
Glass
Packaging
Paper
Household waste
Expert opinion
"The pre-collection bags are particularly well suited to the sorting process and the voluntary drop-off to the public drop-off points"
Assets
Strong: made from 125 micron thick woven PP laminate (140 gr/m2).
100% recycled product from waste sorting.
Customised and sewn to order: the proposed sizes are usually 40, 45 and 50 litre bags. We also provide 25 litre bags, suitable for carrying up to ten glass bottles and/or jars.
Our pre-collection bags are sponge-washable and have varying length and colour handles.
Technical specifications
35 litre bag
45 cm
40 cm
20 cm
45 litre bag
50 cm
45 cm
20 cm
45 litre bag
50 cm
40 cm
25 cm
45 litre bag
50 cm
40 cm
30 cm
Glass pre-collection bag (10 bottles)
27 cm
27 cm
26 cm
Would you like to install this product in your municipality?
Request a quote
A question?
+33 557 977 500
price of a local phone call