Street furniture
CYCLO-BLOC®
Using CYCLO-BLOC®, bicycles are completely immobilised, both by the rail holding the back wheel and by the fibreglass cap. The latter protects the saddle from theft, but also from the elements for more cyclist comfort.
Assets
Secure
Practical
Robust
Design
Other bicycle stand ranges available on request
Expert opinion
"CYCLO-BLOC® bicycle stand stations provide secure parking. With 1000 bicycle thefts per day in France, it was important to focus the design of this product on security. Plus, CYCLO-BLOC® was designed for the comfort of cyclists, its cap (customisable as an option) protects the saddle from theft and the elements."
Product made in France
Patented
Assets
All the bicycle parts are secured from theft and damage
Easy to install and use: direct embedding or fixing with plates / one padlock is enough to protect the bicycle completely
Quality and robustness: 40/2 diameter steel tube, hot-dip galvanised, epoxy powder coating
Sleek and aesthetic design for harmonious integration whatever the type of site
User comfort (saddle protected from the elements)
Suitable for all types of bicycle
Customisation possible using colours, logo or text marking (see Options section below), the possibility of including a signpost or, on the single CYCLO-BLOC®, the choice of cap positioning (left or right).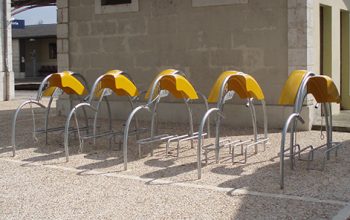 Would you like to install this product in your municipality?
Request a quote
A question?
+33 557 977 500
price of a local phone call